US$350 per hour
The Leopard 41 Powercat
---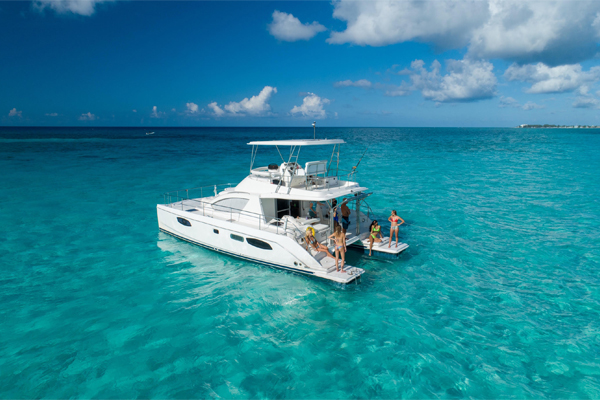 "Zarp" is Sailcayman's Newest addition to her Dynamic Fleet. At 41' this State of the Art, South African built Leopard Powercatamaran offers all the luxurious space of our Sailing Cat, but in addition Boasts a Shaded Top Deck Fly Bridge area that Comfortably seats 8 passengers offering an Elevated breezy Vista. With no sails her Advantage is More Speed allowing even more time to enjoy Grand Cayman's World Class Snorkel and Beach Locations!!
Max capacity on this vessel is 26 passengers and in conjunction with the Fly Bridge you will enjoy a shaded main cockpit area, comfy cushions surrounding a large table this less breezy location is also fully shaded and handily provides access to the vessels interior.
Finally her Fore deck enjoys a hugely social area accommodating a fully cushioned sunning area that will accept 6-8 fully stretched tanners and 4 large bean bags where you will enjoy your own party tunes via our super powerful Blu tooth Speaker.
We shall provide:
Snorkel gear, life jackets, snorkel vests, and or "Noodles".
Bait for the Rays.
Bottled Water.
Music (Bluetooth Available)
WiFi.
Note:
In addition we can arrange to provision with your choice of Beer, Wine and Liquor (My cost is your ) or BYOB.
We accept Visa, MC, Discover, AMEX and Cash.
Up to 5 Person $350 Per Hour
6-15 Person $400 Per Hour
16-20 Person $450 Per Hour
Please call for local rates and or extended cruises to the Sister Islands and Cuba.